The Residential Bridge Course Program (RBC) was initiated in May 2007.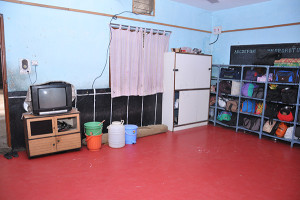 Focus
We care and provide for around 50 under-privileged children:
Hostel accommodation (a home away from home) with a warden.
Meals in the morning & evening.
The program accomodates orphans and children of migrant workers and provides them access to education.
They get tuition in the evening together with life skills like Karate.
The program was initiated by the state government in part fulfilment of its obligations to the millennium development goals
The children are housed in a provisory dormitory on the school premises.
A daily routine and the fundamentals of hygiene are imbibed. They get regular nutritious meals, care and attention.
Outcome
Two classrooms have been converted into a dormitory to provide provisional accommodation for the children.
Two staff members assist, organize, teach and supervise the children and ensure that nutritious meals are provided.
There is a visible transformation of these once destitute children radiating joy and hope instead within a few weeks of their stay at RBC.
Expenses
The Government has thus far sponsored only 3 of the 6 years since this program was introduced.
The foundation now finances and runs the program independently.
In 2014-2015 the foundation spent about 29% of its yearly budget for this program.
The foundation hopes that permanent accommodations for these children will be possible in the near future. This could help increase the number of children who could benefit from this project.
The cost for one child for one full year is 20,200 INR.